Heavena - Residences by the Sea - from 3.7 million baht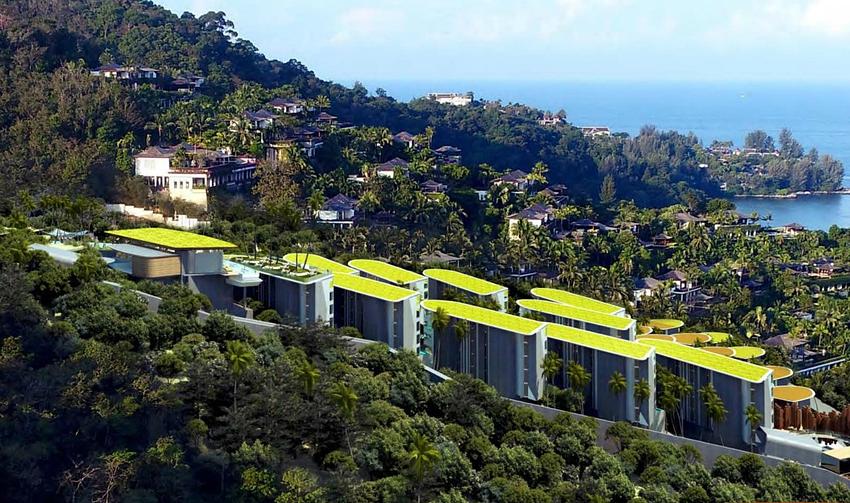 Blue Horizon Developments Co., ltd will now be launching their sixth project.
Heavena will be situated next Blue Horizon's Himalai project on the famous millionaire miles road. This location was again chosen due to the developer's previous experience of clients wanting the opportunity to buy into a five star hotel management operation and be located just 50 meters from Kamala Beach. Heavena is a niche project and something completely different to anything else in Phuket, with its world- class facilities and large number of units.
This project will offer 774 units in total making it the largest resort ever built in Phuket. This time we have done things a bit differently and the units differ from the standard design we have offered in the past, as well as being of different sizes improving all aspect in terms of view and functionality. Heavena have stepped away from the norm of traditional box design units and now offering something quite futuristic which when built will look absolutely amazing. The developer is known for delivering very original concepts and sets the bar in Phuket with Heavena being something of another level.
Rooms sizes are as follows; 32, 35,36 and 38 square meters. These will be hotel style design but with curved windows to offer panoramic sea views with a very stylish, authentic and luxurious designed interiors. Each unit offers a kitchenette to make this more convenient for guests in the hotel. The bathrooms will have a marble interior and sea views are visible from the large curved window pane also in the bathroom.
The complex with built according to zones. The base zone will offer four story buildings and unit sizes will be 35 square meters. These will consist of garden views as well as sea views. The middle zone will be developed around the large common area swimming pool and these building are five stories. Each floor will offer 32 square meter units, with 38 square meter units located on the side of each five story building. At the end of the middle zone around 50 meters you will find the main building with spa, gym, rooftop restaurants and sunken pool lounges where guests can enjoy the views of Kamala Bay. The high zone will offer two story buildings with units of 36 square meters, both sea views and garden views are available.
The other fantastic addition will be our entertainment mountain park called Neverland with astonishing 360 degree views over kamala bay, beach and ocean adding many amazing activities and luxury spa. The park is something so unique to Phuket. This entire area covers 11 rai and has something for everyone. The concept is centered around a hidden world. As you enter the park you are met by a water fall door that automatically opens up, allowing you to enter " Neverland". Once inside the park you have a variety of activities available such as golf course as well as interesting things do such as; tree houses, walking/running trails, outdoor movie theater, hanging tree swings, food courts, club house, hanging bridges, viewpoints, many more swimming pools, large outdoor spa and sky walk bridge. This really is something fantastic for the whole family, leaving guests entertained for hours on end. Such an addition will add considerable value to the units in the resort as well as the area of Kamala itself. 
Heavena curently offers an excellent opportunity for those clients who would like to purchase real estate at the initial stage before the official market launch in order to choose the best units and get pre-launch prices! It is going to be great for anybody who chooses stay at Heavena and use it as an investment vehicle with great returns! Returns are available in the form of a 7% rental guarantee for 5 years. Clients able to pay upfront will receive an additional 5% return on their investment per year, until the project is completed. Completion is approximately three years away.
Payments
The developer offers a few different options in which to pay.
Option 1: Stage payments through construction period with an initial 35% deposit on signing contract, the rest paying over a three- year period.
Option 2: Receive a further 5% discount on the price if you pay a deposit of 50% on signing of contract, the rest paying over a three- year period.
Option 3: Receive a further 8% discount on the price if you pay a deposit of 90% on signing of contract and pay 10% on completion
Option 4: Receive 5% return per year until completion with a 100% payment on signing contract.
Investors have the opportunity to earn as much as 50% ROI ( return on investment ) within 8 years by simply choosing the fourth payment option and paying upfront and receive 5% for approximately 3 years and then choosing to have the rental guarantee for 5 years at 7%. Most investors who purchase multiple units and want a strong set return will choose these options. The developer has offered these options in his previous projects and the projects have been extremely successful as a result.
Got any questions left?
Feel free to ask!