What projects were started in the 2022-2023 season? Part 1: Bang Tao, villas.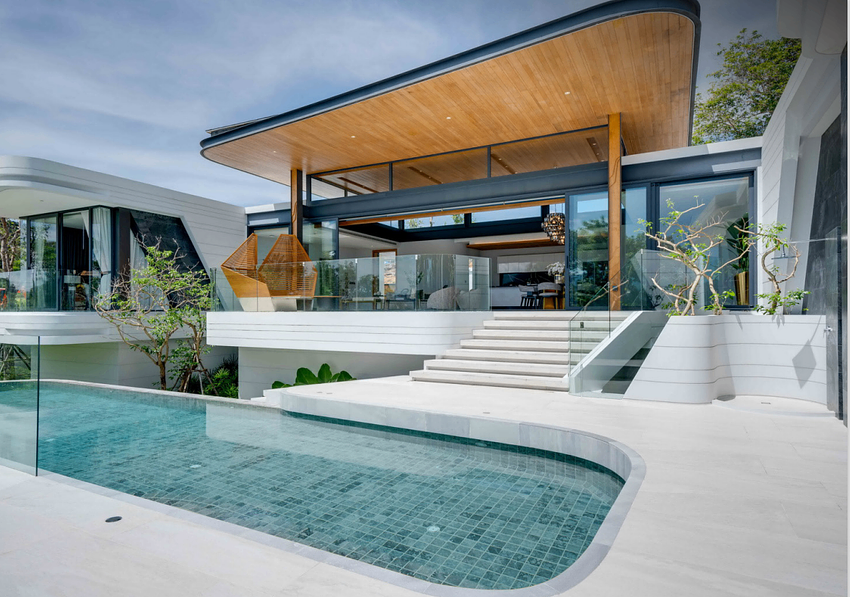 The Bang Tao area has the most villa projects launched. Let's take a look at the developers proposals.
Ozone Luxury Villas is a project by Ozone Group for 10 villas in just 2 km from the beach in a village with a clubhouse and developed infrastructure. Prices start from 50 million 400 thousand baht for a five-bedroom house of 525 sq.m.
In addition, the Ozone group has launched two new phases of The Ozone Residences project, all in the same location. Prices for a 3 bedroom house start from 27,735,500 baht.
Right now in Phase 4 there is a promo price of 25.5 million baht for a 3 bedroom villa with a furniture package included.
louvre villa - everything is not as rosy with this project as with the previous one, but it is holding on. They promise to build a show villa by October. Prices for three-bedroom villas start at 25 million baht.
Andaman Asset launched several projects at once, which were very successful.
The first - The Residence - is all sold out. The Residence Prime was announced last week.
Trinity Villa, the first phase of six 3-7 bedroom villas, also sold out quickly. The Trinity Prime 1 and Trinity Village are projects that are still available. Villas with 4 and 5 bedrooms, pre-sale prices start from 32.6 million.
QAV Residence project was launched recently, and it includes not only the residential part, but also the hotel and sports area - a whole wellness center with three floors plus six tennis courts. The developer has a desire to build a village whose residents will be united by a healthy lifestyle. The residential part includes houses that will be built after making the contract payment within 12 months. They promise to build tennis courts by the end of this year, but a three-story health center by the end of 2025.
The price for a three-bedroom villa was 21.2 million, now they are not available, but they will be - the plots are not released for sale all at once, but in stages. With 4 bedrooms - the price is from 27.6 million baht, with five - from 45.3 million baht.
Sunrise Garden and Sunrise Palms were announced and sold out very quickly. These are the projects of the SKHAI company, which builds not only in Phuket, but, first of all, in Koh Samui. The approach is extremely flexible: plots are sold on which a custom-made villa is built with the number of bedrooms that you need. In Sunrise Garden it was 2-4 bedrooms, and in the second - from 1 bedroom. Prices started at 7 million baht for 1 bedroom, 8 for two and went up to 21 million baht for a villa with 4 bedrooms and 2 floors.
Projects make the most of the principle of the constructor, where a certain structure is offered for the base price, and all additional is recruited and calculated separately.
The Clover Residence is one of the latest projects, it is sold out very quickly due to the location right next door (100 meters) to the branch of the international school HeadStart in Bang Tao. Good location and residents are allowed to use the infrastructure of the school. The developer gifts an annual Blue Tree membership. Prices start from $33.5 million for a 4 bedroom home.
Prime Pano is an interesting project with 58 four-storey houses and developed infrastructure. There are a cafe with a clubhouse, and a playground, plus a fitness center and spa.
Prices for three bedrooms from 29,350,000 and for four from 36.1 million baht.
Banyan Tree Grand Residences - Beach Terraces are conveniently located on an extremely expensive piece of land right on the beach. You have to pay for such luxury: 90 million baht. Three floors, a roof terrace, and one of the six villas is yours. Unfurnished, furniture will cost almost 7 million baht more.
LuxPride2, 3, 4 by Wallaya – three phases of a cutting-edge modern project were launched by a Thai developer, and the first two were swept away by a flood of buyers. The fourth is still available. Price starts from 19.2 million for a villa with three bedrooms on a plot of 370 sq.m. Furniture will cost 1.7 million baht.
Breeze Villas Phase 2 is located in just one and half kilometers from Bang Tao beach and a kilometer from Villa Market. Price starts from 33.1 million for a three-bedroom villa.
Orchard Villas - a project of only 5 villas with 2-4 bedrooms. Prices were great at launch, starting at 9.9 million baht for a two-bedroom home. Prices grew quickly, but all the villas, except for the largest one, were sold. The price of 24.5 million for a 4-bedroom house with two floors seems already moderate after seeing other projects in the area.
Above Element is a project by the developer with proven history that includes 14 villas. Prices for a three-bedroom house are over 30 million. The complex will also include apartments and a clubhouse with amenities for all residents. Fitness center, swimming pool, reception, well-maintained public spaces - it's all there.
Garden Atlas is a very beautiful design project. 40 million baht is the price for a 4 bedroom house. Two-story building with a gazebo on the roof, a beautiful swimming pool, well-groomed garden. This is not the first project for a developer.
Trichada Azure is the project with 21 villas from a reputable company. Prices start from 22.2 million, in May there was only one villa available.
Ansaya Phuket - stunning idea of the project, which is based on Thai traditional architecture, very beautiful. Initially, there were two types of designs proposed. The lowest price was 19.6 million baht for a three-bedroom villa.
Etherium Villas is the project from Russian developer Metrix. 14 villas are to be built, with 3 bedrooms, 133 sq.m. room area. 15 million baht per villa. The renders look amazing.
Kokomo Beach House is a single villa on the coast of Bang Tao. 840 sq.m. plot, three-story house with 4 bedrooms and an abundance of space and facilities. Judging by the renders, this is a house for parties, festivities, fun life right by the ocean. There are two swimming pools. 125 million baht for a villa right on the beach.
Sky Valley is the continuation of Botanica's ultra-premium project with 4 bedroom villas starting at 77 million baht.
In the next article, we will take a look at the condominium projects launched in Bang Tao this season.
Part 2: Apartment projects in Bang Tao that were started in high season 2022-23.
Got any questions left?
Feel free to ask!