Time to buy an apartment by the sea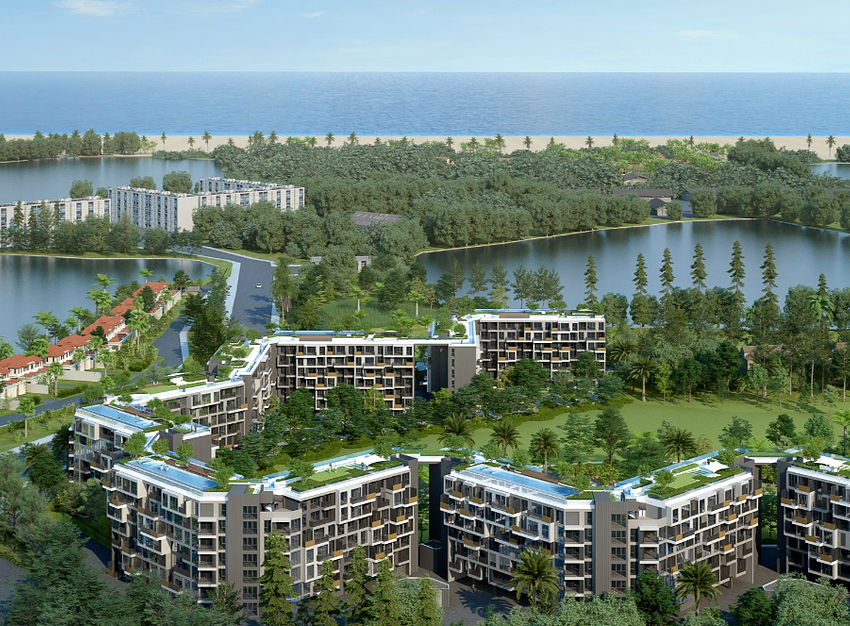 What is Phuket for you? Tropical paradise, endless jungle greenery, gentle warm sea? Or is it income from profitable real estate and an opportunity to invest?
Take everything from the island at once. To get a rental income of 8-10% per year, focus on the most popular area for tourists and those who come to stay for few months during winter. May we suggest Bang Tao. The area is located half an hour drive to the airport and managed to build up the necessary amenities: kindergartens, international schools, cafes and restaurants of cuisines of various countries, from Georgia to Mexico, beach clubs, shopping centers and beauty salons.
Bang Tao is a ticket to the world of rental income or a glorious place to live your own happy life. It is possible to mix both purposes, but most of our customers prefer to separate them.
What to buy in Bang Tao? While it is possible, get apartments in Sky Park. There is secondary housing in already built buildings, there is a new one from the developer. With second, one will have to wait until it is built – that would be the end of 2024.
Those who read carefully may have a valid question: why get an investment object next to a construction site? Nothing else is given, now everything is being built everywhere, developers are tirelessly working on new stages of the successful and ongoing projects. So, let's forget about the construction site for a couple of minutes and imagine the pictures of a happy life in SkyPark.
Six minutes walk to the beach
One kilometer walk to the beach is not a distance of "a flying bird", but honestly calculated in Google Maps along the paths. This is how the distance is calculated and given in the descriptions of objects offered for sale at our website.
As you walk down to the beach, you'll take your baby in a stroller along the walking paths, stopping by FamilyMart for drinks and your favorite snacks along the way. On the beach you can sunbathe under the sun or relax in the shade of the trees. Dine at a restaurant on the shore, where meals and drinks will be accompanied by a view of the sparkling sea.
A feature of the area are pedestrian sidewalks along roads and lakes. Here you can walk and jog. When you stay in Thailand for more than a couple of weeks, you start to miss the parks, squares, wide pedestrian sidewalks. In Bang Tao, you do not change your habits, getting down immediately on the bike when you leave the house. In addition, SkyPark has paths both on the green lawns of its area and on the roofs of buildings that are interconnected. When the new buildings are built, there will be enough space on the roofs to effortlessly cover the norm of daily steps.
Complex with developed infrastructure
Rooftops of the buildings of the complex is the space with treadmills, lawns for yoga, relaxation areas and barbecues. This is a full-fledged space where you will swim, play sports, relax and get to know your neighbors.
The lower floor has a lobby area. This is a cozy space with soft sofas and armchairs. Here you can wait for guests or, conversely, friends will spend time waiting for you to come down and invite them inside.
All owners of apartments, as well as other types of property in the Laguna complex, receive membership in The Sanctuary Club. This is the right to discounts in restaurants, cafes, spas, golf courts and hotels of the chain.
Apartment with kitchen and balcony
Even the studios are equipped with a kitchen where a stove and extractor? a microwave and a refrigerator are installed. The kitchen area is separated from the living area by a sliding door. Thanks to it your bedroom and living room will not smell with food.
There is space on a balcony for a drying rack or a couple of lounge chairs. A washing machine is also set here.
Floor-to-ceiling windows and sliding glass doors let in maximum of light, so the living space is fully lit. If it gets hot or you need to sleep longer hours, blackout curtains will come to the rescue.
What about rent?
You are allowed to rent out apartments independently for a period of six months or longer. You can earn income with short-term and daily rentals by joining the developer's program.
Would you like to know more about the Sky Park complex or visit the showroom? Write to us and we will provide all the information and take you to the showroom for free. We work both with objects under construction and with real estate of the secondary market.
Current offers for SkyPark:
Finished one bedroom apartment
Two-bedroom apartment, completion date 2023
One bedroom apartment, completion date 2024
Got any questions left?
Feel free to ask!