Top 5 things to do during Songkran 2023!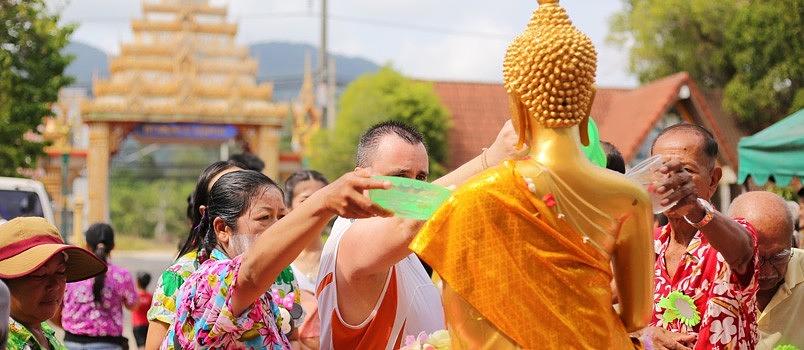 Adventure in Khao Sok National Park.
3-4 hours drive - and you will find yourself in the wild realm of nature! In case you are to choose hotels, trails and other things on your own - take advantage of ready-made travel offers and choose an adventure to your liking while you are in Phuket. The three-day tour includes time with elephants, river rafting, nights in a luxurious jungle tent, food and a lot of impressions. If you want to save money, come to Khao Sok on your own and follow the most popular path to Ton Kloi waterfall. The trail is well marked and popular. If you want to stay for the night, rent a bungalow, a house or even a tent next to the park.
Visit to the LITTLE BUKIT FARM.
Spend three hours in the morning with a breakfast and a tour of the farm sanctuary. This time spent in a warm family atmosphere will be remembered for a long time. Breakfast cost is 1500 baht per person, the farm is open for it from Wednesday to Sunday.
Festival in Andamanda.
On April 14, from 6 pm to midnight, EDM music stars and local DJs will perform. This will be the biggest pool party in all of Phuket. An inexpensive ticket costs 2500 baht.
Celebrate Songkran in style:
- Ceremonial. In the early morning, Wat Chalong hosts a water blessing ceremony and a Thai traditional dance performance.
- Family. In Sapan Hin Park you can celebrate with your children. It is not allowed to drink alcoholic beverages and use aggressive water machines.
- Party on awaits you at Patong Beach.
Glamping at Menara Hill.
Feel united with nature in the forest near Bang Tao Beach. Smaller tents are designed for 2-3 people (2500 baht per night), while larger ones fit a family of 4 people (3000 baht per night). The tents have everything you need, even a mobile air conditioner. In the evening, spend time watching a movie in the fresh air, with barbecue snacks and desserts from a local cafe.
Got any questions left?
Feel free to ask!