Places to visit in Phuket
You already know all best places to stay in Phuket. Let's speak about sightseeing now. We have already described many places that must be visited in Phuket: Big Buddha, Phuket Zoo, Butterfly Garden and Insects, Phromphtep Cape, Karon Viewpoint, Khao Rang Hill, Phuket Aquarium, Tower in Cape Panwa, Bangla Road and a lot of other amazing sights. Today we are going to extend this list of Phuket travel guide. 
Baan Teelanka — is also named as "Upside Down House". We are pretty sure you have never seen something like this tourist attraction in Phuket. All stuffs are overturned here, and people understand what "walking on the ceiling" means. It is an absolutely safe entertainment and suitable for people of all ages. Emotions are unforgettable, photos are amazing. There are just a few such kind of buildings from all over the world, and one of them is located in Phuket, so you can visit it easily. It opens daily from 10 am till 6 pm. 
Phuket Trick Eye Museum – was built in 2013 by a Korean businessman. The first similar tourist attraction was opened in Seoul. After it had received much attention, it was decided to open the same ones in Phuket, Pattaya and Chiang May. It is an extremely exciting journey in the world of 3D museum. This is an eccentric museum with a concept that activate people's creativity and imagination. It works every day from 10 am to 7 pm, the last addition is at 6 pm.
Botanic Garden – is relatively a new sight, it was founded in 2011, that is why not every Phuket travel guide contains data about this tourist attraction. There is a beautiful fountain in front of the entry where you can make great shots. Phuket Botanic Garden is not only a huge collection of rare orchids, exotic cacti and plants, but it is also intricately decorated flowerbeds, bushes that have a shape of different animals, hearts and teapots. There is a marvelous pond with big carps in the garden and you can feed the fish. Undoubtedly, it is one of the best place to visit, you will never regret about spent money.  
Nightmare in Phuket – not many people know about this attraction that is located in By-Pass Road. It is the world of fear, terror and vivid emotions. Note that this attraction is not for soft customers. If you are an amateur to tickle your nerves, then it is an ideal place.
City Tour in Phuket -  is a sightseeing tour included a viewpoint, Buddhist temple, Gems Gallery, latex factory and some other points, the rout depends on the supplier. You can order this trip on our web-site.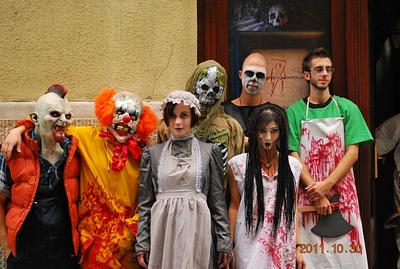 Got any questions left?
Feel free to ask!