Phuket Real Estate Guide. Nai Yang beach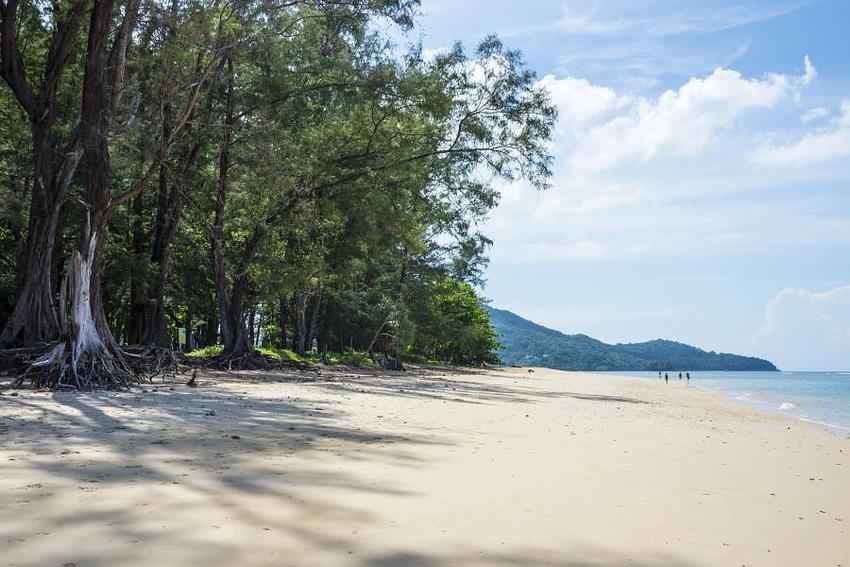 Nai Yang Beach is located in the north of the island and is part of the National Park - a natural heritage of Thailand.
As a rule, this beach is bypassed, it is not as popular as Patong or Kata, Karon, which in our opinion is a big mistake.
Location
Nai Yang Beach is located next to the International Airport, on one side it borders on Nai Thon Beach, on the other side on Mai Khao. For those who want to take a photo with an airplane taking off, just here.
The beach is about 2 km long, located in the territory of the national park.
Benefits:
The main and indisputable advantage is that there are never waves here. The sea is always calm, both in low and high seasons. The entrance to the sea is shallow, the depth begins after a few meters, so you can safely swim with your children.
While resting here, you do not have to think about where to hide from the sun, large casuarina trees provide natural shade.
Also here, you will not meet a large number of tourists, so you can safely enjoy the seclusion and beauty of the Andaman Sea.
Infrastructure:
On the beach, you will not find the usual sun loungers, umbrellas, and sea activities. Fruits and juices are always sold literally a few steps away.
There are few hotels in this area, all of them are located across the street from the beach. There are plenty of shops, 24-hour supermarkets, cafes, and restaurants. On weekends, there is a market where you can shop for local produce.
For fun lovers, a 10-minute drive away is the Dream Beach club, if you drive a little more, you will find yourself in one of the elite areas of the island - Laguna.
Real estate:
Nai Yang Beach is not replete with offers for sale and rent, like other beaches. But the choice of real estate that is here meets all the basic requirements and in many ways surpasses other properties on the island.
What should you pay attention to?
This is The Title Nai Yang condominium located within walking distance of the coast. The complex is completely ready for living. There are several swimming pools and a gym on the territory. In this project, there are still several proposals from the developer, you can see them here. The cost starts from 2.5 million Baht. For more detailed information and to get current prices, follow the link.
This option is perfect for your own residence or for a vacation. Also, these apartments are always excellent for rent and bring their owners a good income.
Another project that deserves special attention is Beachfront Bliss Phuket. This is a great opportunity to invest in Phuket real estate and receive a stable income - 6% for 10 years, with the possibility of free-living up to 30 days a year. The project will be completed in 2022. To book an apartment here, just follow the link.
Also, here is one of the most budget condominiums in Phuket - VIP Great Hill, where the cost of apartments starts from $ 43,570 USD.
And of course, for those who prefer a villa over an apartment, there is an excellent offer, this is the Cocoon Villas complex, where the latest villa is available!
For detailed information on each of the projects, simply contact us at the link.
Got any questions left?
Feel free to ask!