Phuket real estate guide. Karon beach.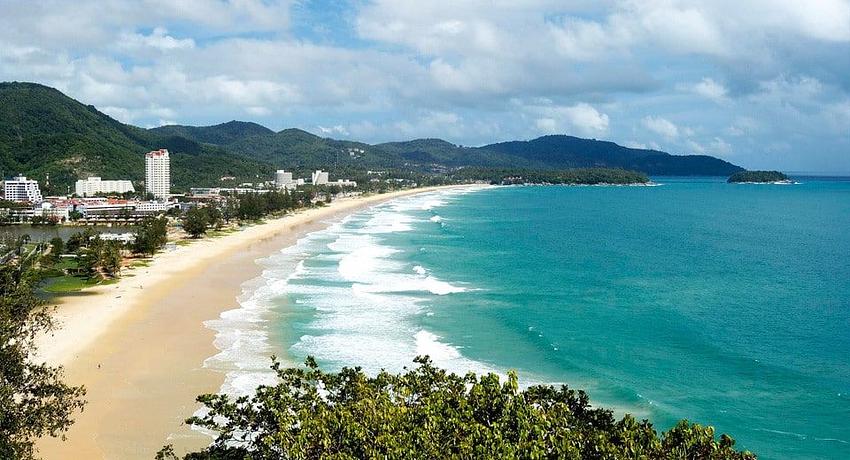 One of the most popular beaches in Phuket. Great views, a wide range of hotels, and real estate. Investment prospects./buy/areas/kata
Karon Beach is one of the longest beaches on the island, about 3,350 meters. It gained its popularity thanks to the so-called "singing sands", which creaks when walking, making an original sound. The creak is due to the high quartz content. The Karon coast is divided into two beaches: the first is Karon Noi Beach and the second is Karon Beach, which extends to Cape Sai, which separates Karon Beach from Kata Beach.
Karon has a gentle entrance to the sea, which is perfect for both adults and children. In the high season, the sea is calm and there are practically no waves.
In the low season, Karon has some of the largest waves. Also, the danger here is represented by underwater currents dragging into the funnel. Therefore, during the rainy season, we strongly recommend keeping an eye on the warning flags.
Location
Karon is located on the southwest coast of Phuket, where it borders Patong Beach on the right and Kata Beach on the left.
Distance from the international airport is only 45 minutes.
Shopping mall Central Festival - 20 to 30 minutes.
Patong Beach is just a 15-minute drive away.
Kata Beach and Kata Noi are five minutes away.
Nai Harn Beach and Rawai - 10 - 15 minutes.
Infrastructure
There is a large selection of restaurants, bars, massage parlors, and other entertainment. If you go a little deeper, you can find local markets, bike, and car rentals.
On the beach itself, you can rent sun loungers and umbrellas, their cost does not exceed 100 baht. For fans of extreme sports, there are options for surfing, hot air ballooning, or sea scooters.
Accommodation options:
Karon is home to a variety of hotels, from inexpensive three-star hotels to luxurious five-star hotels such as the Hilton or Movenpick Karon.
Karon Beach is also one of the most popular places when looking to rent or buy a house or apartment, unfortunately, there are not many offers, which is partly good for the area.
But thanks to the small selection, this beach has good development prospects, which has already attracted the interest of many developers.
We have selected for you some examples of real estate in this area:
Karon butterfly
This is a modern condominium located just 700 meters from Karon Beach. The beach is a 10-minute walk away.
The complex has a communal swimming pool, gym, recreation area, restaurant, and round-the-clock security.
The apartments are presented from 1 to 2 bedrooms with sea or jungle views. The apartments are fully furnished and ready to move in.
A similar complex, also within walking distance from the beach. One of the main advantages of this project is the panoramic view of the Andaman Sea. Prices for apartments here start at 7 million. This is a great option both for your own residence and for renting.
This is a new condominium located 800 meters from the beach. The construction of the complex will be completed at the end of 2022. This project is more suitable for those who plan to invest in real estate. The developer offers 8% per annum for a period of 3 years (no additional payments).
During the rental period of the program, the buyer has the right to use or transfer to third parties the right to use the apartment for 20 nights per year.
Another project that certainly deserves special attention. This is a complex of villas and apartments under the management of a well-known hotel brand.
In this case, we are more interested in villas. Each pool villa has a large private 10-meter pool with a large outdoor terrace. Floor-to-ceiling windows provide access to the open-plan kitchen, dining room, and living area. Perfect for fun or just relaxing with family or friends. Downstairs there are three spacious en suite bedrooms and two master bedrooms with sea views.
For detailed information on each of the projects, just contact us at the link.
Got any questions left?
Feel free to ask!