Anantara. For a Luxurious lifestyle only!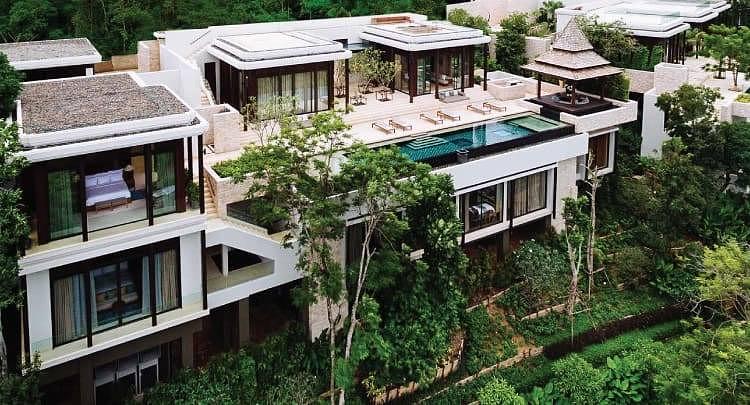 Unrivaled hotel resort with private properties for sale. These are the most coveted luxury villas in Phuket with professional management and unrivaled service.
Anantara villas are a luxury for the elite, a special way of life is not available to everyone.
Anantara was founded in 2001 in one of the seaside regions of Thailand - Hua Hin. Today the resort is located in countries such as Cambodia, China, Indonesia, Malaysia, Maldives, Mauritius, Mozambique, Oman, Portugal, Qatar, Spain, Sri Lanka, Thailand, Tunisia, United Arab Emirates, Vietnam, and Zambia.
And it offers its guests not only a five-star vacation but also the opportunity to become the owner of one of the Anantara villas.
Phuket has two villa complexes for sale managed by Anantara Layan Phuket. We'll look at them separately.
Layan Residences by Anantara
Layan Residences by Anantara is a boutique hotel with 15 villas with private pool. Each villa is a work of art with a spacious sala and a 21-meter infinity pool offering panoramic views of the Andaman Sea. Villas are presented from three to seven bedrooms, with high ceilings and panoramic windows.
Villa area and territory:
Land area: 1.634 - 2.561 sq.m.
Internal area: 1.695 - 2.567 sq.m.
Each residence is designed to introduce you to the traditional Thai culture and to bring you a tropical getaway in the lush gardens of each villa.
The complex is located on the northwest coast of Phuket, in the Layan Beach area. It is one of the quietest and most peaceful areas on the island. But just a few minutes drive and you are in the Laguna area with golf courses, restaurants, beach clubs, and shops.
Avadina Hills Residences By Anantara
Avadina Hills Residences is another complex of private residences on the island of Phuket.
11 modern villas located on the hillside with magnificent views of the Andaman Sea.
Each villa is designed with symmetry and balance in mind. Natural materials create an atmosphere of harmony with the environment.
On either side of the main entrance, the dining and living areas can be converted into a single integrated space. Floor-to-ceiling windows open with sliding doors and offer panoramic views of nature. The dining area has an impressive open kitchen followed by a fully equipped kitchen. Granite tiles on the floor and teak ceiling seamlessly connect the indoor and outdoor areas.
An additional third level provides additional space for sleep, spa, or entertainment, all with panoramic ocean views.
Villa area and territory:
Land plot: 2.785 - 3.715 sq.m.
Internal area: 2.452 - 3.373 sq.m.
The complex is also located in the Layan Beach area, which is part of the National Park of Thailand. Here you will find all the necessary infrastructure for a comfortable stay.
These two complexes are a real oasis of paradise life. But besides the fact that you become the owner of luxury real estate, you also get the opportunity of a stable income by renting out these villas.
For detailed information, cost and booking, just leave your request on the link.
Got any questions left?
Feel free to ask!