Phuket. The New World Leader in Yachting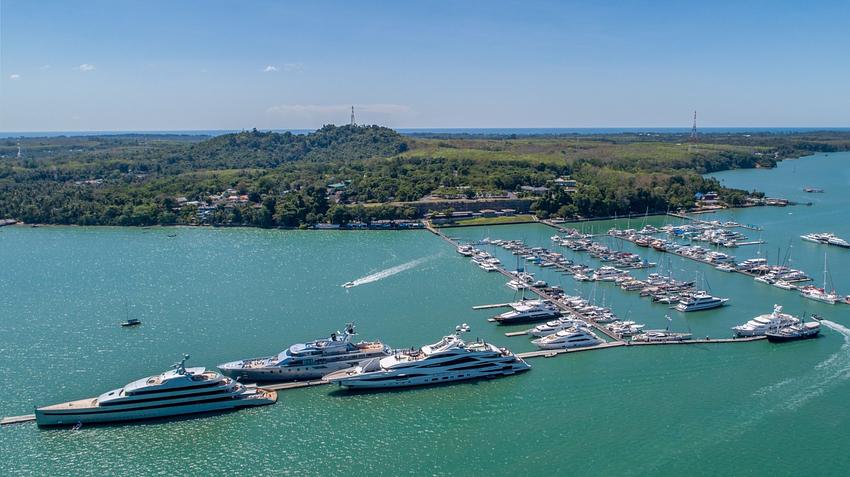 Currently, there are a total of 38 ports on the island and five of these are yacht docs, with four
of the main yacht marinas being located in the north of the island.

Phuket has always been a popular place for private yacht owners to moor their yachts and
enjoy some of the great facilities on offer, not to mention the great sailing conditions,
which for most of the year are a major attraction for any boat owner. Yacht travelers also like
Phuket and use it as a homeport for further trips to the Phi Phi islands and Ao Phangnga
Marine National Park in neighboring provinces.

While the industry continues to grow we can expect to see more marinas appearing over the
next few years. Phuket's marina industry has grown so rapidly that existing marinas are now
struggling to cope with such demand. Marinas and related businesses are said to generate around
twenty billion Thai Baht each year.

Makham Bay has been approved to establish the next major marina which will host its newest
addition to the world-class international brand and this will be the seventh marina under the
ONE°15 groups. ONE°15 provides high-end amenities and the warm hospitality of an integrated
marina brand, with the aim to serve and boost Phuket's marine industry and bring this to the
next level. The government also plans to develop the marina into a deepwater port so that it
can also serve large cruisers. The marina will include a large club, which shall be positioned as a
lifestyle resort, equipped with yacht chartering for water sports, recreation programs, a spa &
wellness area and hotel room facilities to cater to both members and the general public.
Facilities will include a 171-berth marina. Their aim is to accommodate super-yachts of up to
200 feet, with 25 hard-stand spaces and 80 dry-stack storage facilities. Another feature will
include a hotel offering 66 rooms with four 3 bedroom villas, a pool, banquet hall and meeting
rooms will be available as well as F& B outlets.

Annually the Royal Phuket Marina hosts the Phuket Yacht Show. A "Grand affair" filled with
medium range to the very luxury yachts. The event is buzzing with boat brokers and advertising
booths. The yacht show takes place over four days and offers lots of stalls, VIP lounges, and
entertainment to draw in the crowds. Each year this event sees more and more yachts being
purchased, a true reflection of just how much the industry has grown and what is to come over
the next few years.
Got any questions left?
Feel free to ask!