Patong Real Estate: best-selling type of housing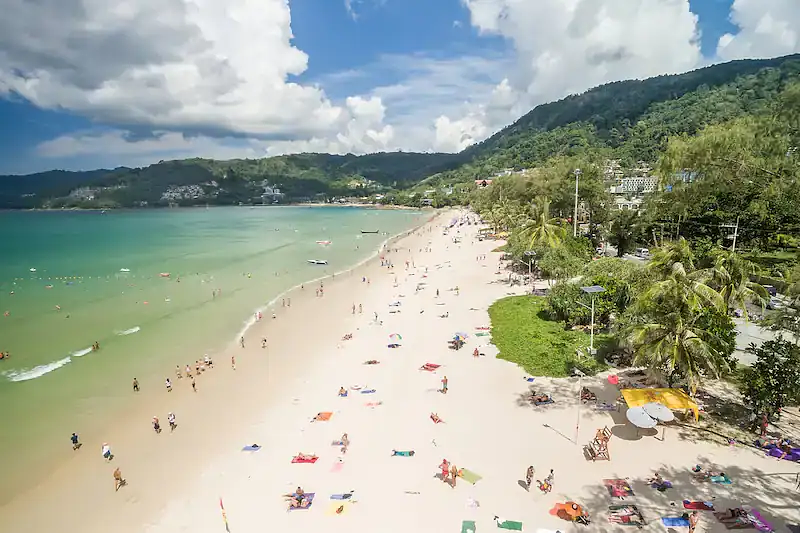 Patong is the most famous and crowded beach of Phuket. Formerly this place was a fishing village that today has become a center of Phuket night life.
There are a huge variety of restaurants, bars, shops, hotels, apartments and the best discos here, so those who like a quiet and relaxing holiday do not choose this region, but as for fans of hanging out, partying and other crazy entertainments, they will fall in love with this place indisputably. Two large shopping centers are located in the center of the village: Jang Ceylon and Shopping Paradise. Evidently local prices are more expensive than in any other area of ​​the resort.
For many people Patong is synonymous with the word "phuket". Why is this beach considered as a Phuket symbol? Let's find out. Firstly, the district is geographically located in the center of the isle, and any point can be reached within 15-50 minutes, including the international airport. Secondly, this is the most developed area in the province: the greatest number of different housing, night and daytime amusements, malls, cafes and other tourist infrastructure are situated hither. Thirdly, these roads are never empty and never sleep, there is always something to do and where to go. Low season is something unknown for the spot. Finally, a wonderful sandy beach which is always full of tourists makes Patong so adorable. The beach is some kind of locomotive of Phuket tourism industry that attracts millions of visitors every year. The bay surrounded by mountains has a classic horseshoe shape. Yellow sand and calm sea make it a great place for swimming. But honestly people arrive here not because of the sea, but owing to fun pastime: shopping, rollicking and free-and-easy bars, trendy eating places, night markets, Thai boxing, a lot of shows and diversions for adults and children.
Now let us talk about Patong Real Estate industry. Most wide-spread type of dwelling built in Patong is condo hotel. Condo-hotels representing a mix of condominium and hotel have become extremely popular in many countries. Usually this lodging is relevant luxury 5 star complexes with hotel infrastructure, including restaurants, bars, spa, beauty salons, swimming pools, conference zone. Like hotels, they are managed by operators; however, belong not only to the management company, but also to individuals. Investors do not acquire stakes, they buy some units - studios or apartments with equipped kitchens that can be used as temporary housing or source of additional income by means of renting them out. This kind of property is controlled by qualified managers under one brand network - such as, for example, Hilton, Le Méridien and others. Infrastructure depends on many factors: location, target audience, the class of hotel facilities. The scope of services is partly dependent on the building spot. So a condo-hotel situated on the beach due to weather conditions needs getting regular and careful maintenance. Complexes must comply with customers wishes. The value of unit rely on the location, umber of storeys, quality of offered services, as well as the hotel operator.
As for Patong Real Estate, it should be noted that typical best-selling lodging has the following description: off-plan or brand new ready condominium in a very good location, no more than one kilometer away from the shore and main shopping centers, a fairly large project for 120-270 units reliable Thai developers, with swimming pools, sun loungers, contemporary architecture and design, spacious rooms and large balconies. Apropos squaring, it starts from 30 to 33 sq.m. (for studios), 43 to 46 meters (for one bedroom flat) and 65- 75 sq.m. (for two bedroom condo). There should be 24-hour security, video surveillance, parking, free wi-fi, pools with Jacuzzi, gym and a barbecue zone on the top. Commonly developers offer all this statement of requirements. Moreover they promise getting guaranteed income - 7% within 5-15 years, or they propose using property management program - 25% of the rental cost. Regarding property rate, it varies and starts at 120 000 USD.
Got any questions left?
Feel free to ask!