Affordable Paradise: Affordable Apartments in Phuket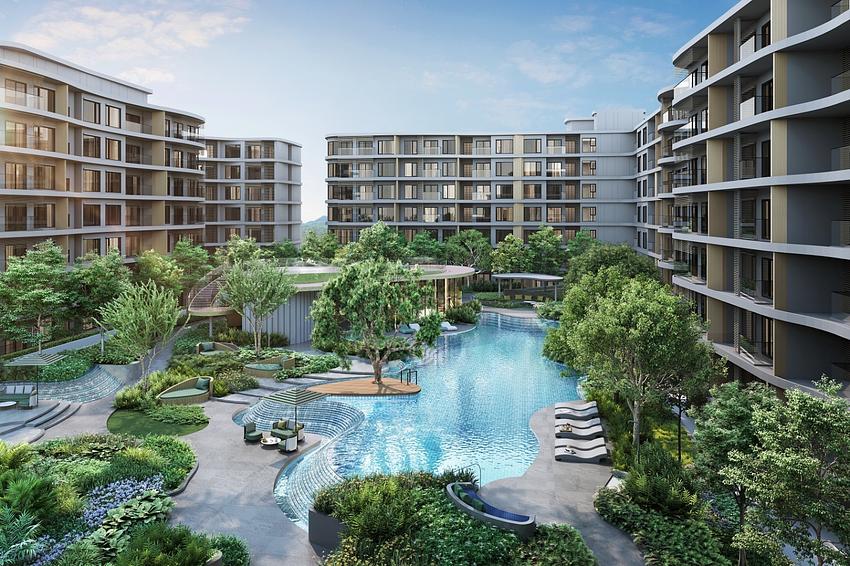 Phuket, Thailand's largest island, is renowned for its breathtaking beaches, vibrant cultural scene, and lush tropical landscapes. This destination caters to a wide range of travelers, including those looking for luxury resorts as well as people on a budget looking for an affordable slice of paradise. With their budget, there are also many cost-effective options available. This article looks at some of the best budget apartments in Phuket that will ensure you get the most out of your holiday without going over your budget.
Rawai Beach: the center of budget apartments
Located on the southern tip of Phuket, Rawai Beach is a favorite destination for budget-conscious travelers. In this area, you'll find a variety of affordable apartments that are not only cost-effective, but also strategically located near local markets, restaurants, and attractions.
One such option is Rawai Grand House, which offers cozy and well-furnished apartments at reasonable prices. This hotel features amenities such as a swimming pool, free Wi-Fi and friendly staff to ensure guests have a comfortable and enjoyable stay. Known for its scenic views and lively local atmosphere, Rawai Beach is an excellent choice for those looking for an exciting and authentic Thai experience.
Chalong Bay: Cheap Apartments with Views
Chalong Bay is another affordable area that offers both apartments and guest houses. The region is very popular with water sports enthusiasts as it is a central hub for activities such as diving and sailing. Chalong Chalet & Longstay Resort offers affordable apartments, many with breathtaking views of the bay. Immerse yourself in the relaxed atmosphere of Chalong Bay while remaining just a short drive from some of Phuket's famous attractions.
Kata and Karon beaches: accessible on the shore
Kata and Karon beaches, located on the southwest coast of Phuket, are famous for their pristine, crystal clear waters and stunning sandy beaches. Despite the predominance of upscale resorts in these areas, there are still affordable apartments available for travelers who desire proximity to the beach.
Kata Green Beach Hotel and Karon Sea Side are two options that offer clean, comfortable apartments at competitive prices. Enjoy the beauty of stunning beaches and explore a wide selection of restaurants and shops, all while staying within your budget.
Patong Beach: inexpensive apartments in an entertainment center
Patong Beach, the island's entertainment hub, is often associated with luxury resorts and vibrant nightlife. However, this vibrant area has affordable apartments that make a great base for exploring Phuket.
Bauman Ville stands out as one such residential complex, offering a variety of affordable and well-appointed apartments within walking distance of Patong Beach. Enjoy a vibrant nightlife and plenty of entertainment options, and when you're ready to unwind, retreat to privacy. Your comfortable and inexpensive accommodation.
The charm of budget living in Phuket
Phuket's budget apartments give travelers the opportunity to enjoy the beauty, culture and entertainment of the island without putting a strain on their wallets. Whether you love the serene shores of Rawai, the scenic views of Chalong Bay or the vibrant atmosphere of Kata, Karon and Patong, there are affordable apartments to suit your preferences. If you're planning a trip to Phuket and looking to get the most out of your budget, rest assured that an affordable paradise is within your reach.
Discovering Paradise: Real Estate Investments in Phuket
Phuket, Thailand's "Pearl of the Andaman Islands", is a place that needs no introduction. With its stunning beaches, lush landscapes, vibrant culture and thriving tourism industry, it's no surprise that this island paradise has attracted the attention of discerning investors from around the world. When considering a property investment in Phuket, you are not just purchasing a property; you are investing in a piece of heaven on earth. This article explores the reasons why Phuket is a hotspot for property investment and provides important considerations for those entering this market.
Phuket: investment hotspot
Phuket has become a popular property investment destination in Southeast Asia, and there are good reasons for this trend. Here's what makes Phuket stand out:
1. Phuket's thriving tourism industry guarantees a continuous flow of visitors, contributing to strong demand for property investment. The island's accessibility, facilitated by numerous direct flights, attracts travelers from all over the world surrounded by the natural beauty and varied attractions of Phuket. This constant flow of tourists makes Phuket a great place to earn income from short-term rentals.
2.Phuket's property market is valued for its stability and steady growth, making it a reliable choice for investors seeking consistent returns over time. Despite possible fluctuations, the long-term trend remains positive. This is encouraging for investors looking for sustainable returns.
3. Phuket offers a wide range of property types, from beachfront villas and luxury apartments to affordable apartments. This variety allows investors to select properties that suit their budget and investment goals, adding flexibility to their investment strategies.
4. Phuket's status as a popular tourist destination results in impressive rental returns for property investors. Taking advantage of the island's popularity, investors can generate significant income by renting out their properties during periods of unuse.
5. Foreign ownership. Thailand's property laws are attractive to foreign investors. Non-Thais can own condominiums in their own name, providing a wide range of investment opportunities in the real estate sector.
Real estate investment advice
While Phuket offers a tempting investment landscape, it is important to approach it with due caution. Here are some key considerations:
1. Location matters. Phuket is diverse and different areas suit different types of travellers. Choose your property's location carefully based on your target market, whether luxury travelers, retirees or families.
2. Legal advice. Given the international nature of real estate investing, it is wise to hire legal counsel to deal with Thailand's real estate laws and regulations. This ensures that your investment will comply with all legal requirements, providing peace of mind and a secure foundation for your endeavors.
3. Property management. For those looking to rent out their property, looking into property management services is a smart choice. These services can oversee various aspects including marketing, maintenance and guest services, offering a complete solution for property owners.
4. Currency risk. Fluctuations in currency exchange rates may affect investment returns. It is prudent to consider strategies for managing currency risk, especially if assets are not held in local currency. This proactive approach can help mitigate potential financial risks associated with currency fluctuations.
5. Local partners. Developing relationships with local real estate experts, real estate agents and developers can offer invaluable information and assistance throughout the investment process. Leveraging these connections can improve your understanding of the local market and help you make informed investment decisions.
Long-term benefits of investing in Phuket
The Phuket property market goes beyond short-term gains; it's about purchasing a piece of heaven that grows in value over time. Investing in an island means living a lifestyle that includes breathtaking sunsets, water sports, cultural experiences and fine dining. It is an investment in both real estate and an enriched lifestyle.
In conclusion, property investment in Phuket represents an attractive opportunity for those seeking financial gain, as well as an opportunity to immerse themselves in the island's unparalleled charm. The potential for high rental returns, a stable property market and a favorable legal environment combine to make investing in the Phuket property market an extremely attractive proposition. However, as with any investment, careful research and informed decision making are critical to ensuring a successful and profitable venture in the Phuket property market.



In Phuket, developers often give priority to the development of internal infrastructure and facilities of their complexes. In addition to standard amenities such as swimming pools, the package usually includes gyms. Some projects go the extra mile by providing on-site cafes, restaurants and shops for added convenience. Landscaping is carefully maintained not only around the residential area, but sometimes also inside the complex. All apartments are sold fully furnished, including plumbing, and the total price usually includes a dedicated parking space.


The pursuit of excellence
The Title developer has earned a reputation for creating exceptional living spaces that blend seamlessly with the natural beauty and cultural richness of Phuket. Their vision is focused on offering for residents and investors more than just real estate; it's about embracing the charm of the island. This commitment to honesty and transparency sets them apart, ensuring that their clients are part of a trustworthy and rewarding real estate journey.
Diverse portfolio, unrivaled quality
What sets The Title Developer apart is the diversity of its shows. in your real estate portfolio. Whether you're tempted by the serenity of beachfront living, the vibrancy of an urban environment or the sophistication of private villas, The Title offers options to suit every taste and budget. Their designs highlight a commitment to quality and sustainability, ensuring that each property will last and retain its intrinsic value.
Apartments at The Title range from 4,000,000 Thai Baht (THB) and can go higher.


The Base Bukit is the foundation for every creative source, carefully crafted to integrate Peranakan culture with the wonderful and truly distinctive lifestyle of the modern era.
The cornerstone of any community endeavor that has universal, shared spaces at its core.
The center of any lifestyle, where form and comfort intersect to ensure your daily relaxation.
For added convenience, the complex features a laundry room and an electric vehicle charging station. In addition, wireless Internet access is available in significant public areas, including the lobby, co-working space, entertainment center, recreation area, and fitness center, ensuring residents stay connected at all times.
Located close to shopping complexes, medical facilities and prestigious international schools, THE BASE Bukit represents a lifestyle of unparalleled ease and luxury. It stands as a testament to architectural splendor, cultural fusion and the pursuit of an exceptionally wonderful life experience.

A hub for every lifestyle, conveniently located in the heart of Phuket, within close proximity to shopping malls, medical facilities and reputable international schools.
Drawing inspiration from the stormy sea and vibrant foliage of Phuket's landscapes, THE BASE Bukit pays homage to local Peranakan culture while seamlessly integrating the latest architectural trends and the modern lifestyle of Phuket's new generation. The result is a unique, aesthetically pleasing and functional home that offers all the amenities you need to relax in style every day. Prices start from 2.5 million baht.
Welcome to Essence Residence in the heart of Rawai, where the Deluxe Condominium is more than just a place to live - it is a symbol of first-class architecture and timeless quality. Our buildings are designed to withstand the region's high humidity and hot climate, using high-quality materials and proven technology to ensure they will stand the test of time for generations.
The exterior seamlessly blends classic aesthetics with contemporary design, providing contemporary apartment layouts, co-working space, a chic bar, fully equipped gym, rooftop pool with stunning panoramic views and convenient underground parking.
For beach lovers in Rawai, the famous beaches are just a stone's throw away, offering easy access to enchanting coastal wonders. The Deluxe Clubhouse, located near the Rawai waterfront, is the crown jewel of our property. It boasts a rooftop infinity pool, an elegant restaurant with breathtaking panoramic views, a gym set against a picturesque mountain backdrop, a children's pool and a delightful play area, displaying the epitome of modern architectural excellence.
In addition, our outstanding feature is the smart home system, allowing you to easily control and personalize your apartment remotely. This becomes especially valuable for people going on long trips, business trips or vacations, ensuring that you can experience peace of mind and convenience wherever you are.
Prices start from 4 million baht.


Discover Wyndham La Vita Phuket, a collection of stylish condominiums conveniently located close to Rawai Beach. With both foreign freehold and leasehold options, these apartments enjoy picturesque views of the gardens, hills or sea. Inside, you'll find modern kitchenettes or kitchens, open-plan living and dining areas, private balconies, and some apartments even have luxury amenities like bathtubs and walk-in closets.
Wyndham La Vita Phuket consists of 553 apartments located in 8 buildings, complemented by an additional 9th building, which houses the hotel's elegant, multi-functional lobby. All apartments are decorated in a modern tropical Asian style and feature high-quality fixtures and furniture that let in natural light through large floor-to-ceiling windows. To enhance residents' experience, Wyndham La Vita Phuket also offers rental management services.
Residents of Wyndham La Vita Phuket can enjoy a variety of amenities including a rooftop pool, large garden pool, dedicated children's pool, spa, fully equipped gym, play area, business center and welcoming reception. Keeping safety and tranquility in mind, the complex provides 24-hour security as well as ample parking.
Ideally located, Wyndham La Vi Hotel ta Phuket is just a 5-minute walk from Rawai Beach, while Yanui Beach, Nai Harn Beach and Promthep Cape are a short drive away. The surrounding area is dotted with seafood restaurants, bars, cafes and shops. In addition, famous attractions such as Nai Harn and Yanui beaches, as well as shopping centers and supermarkets in the Chalong area can be easily reached within a 10-15 minute drive. Prices for these exceptional residences start from 7 million baht.
In your search for property investment in Phuket, rely on a reputable and experienced property company with a proven track record in the market. With years of experience and the trust of numerous clients, our professional real estate agents are ready to assist you every step of the way. Whether you are looking for your dream property or a lucrative investment opportunity, our team is committed to ensuring your success. Do not hesitate to contact our manager and take a step towards securing the property you have been dreaming of. Your ideal investment is just a conversation away.
Got any questions left?
Feel free to ask!