Eco Condominiums in Phuket: Serene Condominium and Layan Green Park.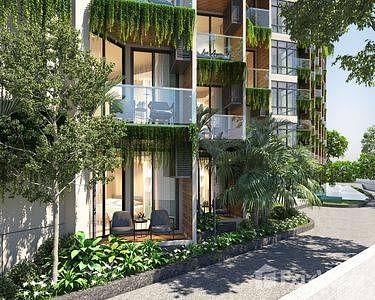 The world is changing and the issue of ecology worries us more and more every day. The real estate industry did not stand aside and now new projects are focusing on the sustainability of their buildings.
In this article, we will look at two condominium projects in Phuket that focused on balancing nature, using sustainable materials, and preserving space.
Serene condominium
A project that surprises with its environmental friendliness and care for nature, here you will feel the unity with nature in every detail. Tiffany-inspired mint tones add a sense of coziness and luxury.
Serene Condominium is represented by the renowned developers in Phuket - Serene Surin Co., Ltd, which has successfully completed projects such as Taya villas and Diamond Condominium.
The complex will be located on an area of ​​6.514 sq.m. at the intersection of two beaches Surin and Bang Tao. Today this location is actively developing and building up. Within walking distance from the condominium, there is all the necessary infrastructure, 24-hour supermarkets, pharmacies, massage parlors, and restaurants. Large shopping centers, supermarkets, water parks, and entertainment centers are opening here. Literally 5-10 minutes by car, and you will get all the amenities and entertainment you need for a comfortable stay. Also here is one of the elite areas on the island - Laguna, with numerous restaurants, five-star hotels, tennis courts, and golf courses. And of course, the most important thing is that the beaches are less than five minutes away by car.
The condominium is represented by two eight-story buildings, with an elaborate internal infrastructure.
Much attention has been paid to the environmental friendliness of the complex, the entire territory will be buried in greenery, which will affect not only your well-being, making it better, but also the creation of a natural comfortable shade, where even on the hottest day, you will feel great.
The project will include 203 units, of various layouts from studios to penthouses, with mountain and sea views.
Unit types:
Studio with access to the pool (30 sq.m.)
Penthouse (135 sq.m.)
Each of the apartments is designed in such a way as to free up the internal space as much as possible: a pull-out kitchen, a bed - a sofa, which are quietly fixed into the wall, and free up space. You can get more detailed information by clicking on the link.
Completion of construction is planned for the end of 2022.
In addition to the fact that this complex is great for own living, the developer also offers an investment program for those who are looking for a stable income.
Here is a mix of 2 rental programs:
5% guaranteed income for 5 years + 70/30 rental pool.
Free accommodation: 30 nights (May to October) or 15 nights in November, February, March, April.
Free utilities (water/electricity) for 5 years.
Rental income is paid at the end of each year for 5 years.
The cost of the apartments starts at $ 90,396 USD, with installments by stages of construction.
Layan Green Park
Layan Green Park is another complex, which is a new generation project, which reflects the philosophy of nature conservation, environmental friendliness of materials in combination with modern technologies.
Solar panels, eco-friendly materials, natural ventilation.
Ergonomic design and layout.
Automatic microclimate control, air conditioners.
Landscaping of the territory and facades.
Another feature is the focus on family values ​​and the creation of coziness in every detail. You will feel taken care of from the first minutes of your arrival, from the general infrastructure of the condominium to the interior arrangement of the apartment.
The condominium will consist of three main buildings and will include 403 apartments.
2 bedroom apartment
3 bedroom apartment
Completion of construction is planned for the end of 2022.
Layan Green Park is located in the area of ​​two beaches Bang Tao and Layan. This is one of the premium locations in Phuket due to its proximity to developed infrastructure and the Laguna area, famous for its five-star hotels, golf courses, and parks.
This condominium is suitable for both your own residence and investment.
4 options for guaranteed income:
8% for 5 years
7% for 4 years
6% for 3 years
7% for 3 years
* The program will depend on the selected payment schedule. You can get more detailed information by clicking the link.
Apartments start at $ 114,599 USD.
You can find even more real estate offers on our website https:/phuketbuyhouse.com/
Got any questions left?
Feel free to ask!