Sunshine Beach Phuket. Discount up to 15%.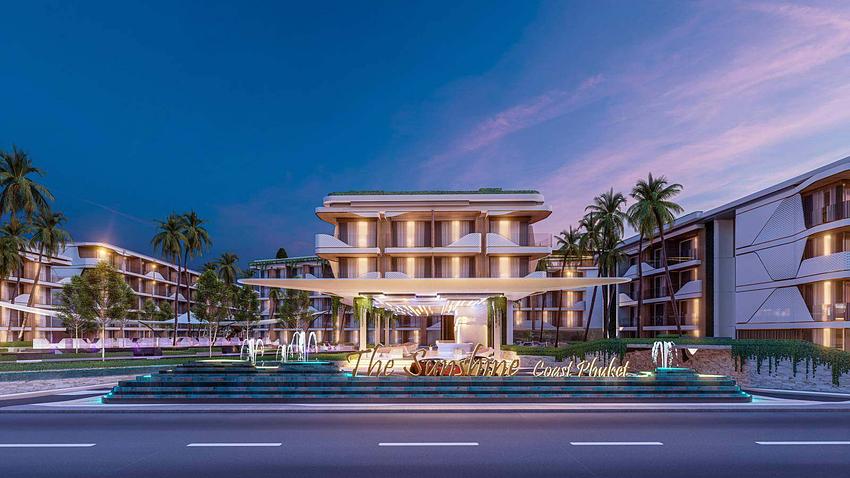 A brand new condominium in Phuket, located along the coast of Layan and Bang Tao. A complex that combines three areas:
For investment
For life
Hotel
New project Sunshine Beach in Phuket, with a unique concept, a competent investment program, and a good location. All this distinguishes this complex from other proposals in Phuket. Let's figure out why.
Two important components of any project: location and developer
Location
Phuket has the second-highest per capita income among all the provinces of Thailand outside of Bangkok. The popularity of the island only grows every year, it is chosen not only for recreation but also for permanent residence. All conditions for a comfortable life have been created here, the absence of harmful industries, a favorable environment, developed infrastructure, international schools, shopping centers, sports complexes, yacht clubs, and much more.
The project is located on the west coast of Phuket, just 50 meters from Layan Beach, surrounded by tropical nature. Just five minutes away is Bang Tao Beach, home to the famous and luxurious resorts of the Laguna. This incredible complex houses some of the largest hotels on the island such as Banyan Tree Resort, Dusit Thani Laguna Phuket, Angsana Phuket Resort, and Outrigger Resort.
5-10 minutes to shopping centers - Boat Avenue and Port De Phuket.
5 minutes - Dream Beach Club and Xana Beach Club
10 minutes - Catch Beach Club
5 minutes to Laguna Golf Club
15 minutes - Blue Tree Water Park
Developer
T.N. Group Phuket Co., Ltd. Is a new name on the island, created jointly and with investments from three large groups: Hong Kong Safe Gold Group, Golden Invest Group, and AUTA Group.
Golden Invest Group was founded in 2017 and is headquartered in Norwood.
Adelaide. It is an important electricity supplier in South Australia and a leader in renewable energy and solar energy.
Golden Invest is committed to promoting development, design and construction, operation and maintenance, microgrids, and solar energy projects on a large scale of modern public services.
AUTA Group was founded in 2012 and is headquartered in Glen Osmond, Adelaide, South Australia. This group is dedicated to the development, sales, and construction, as well as the construction of medium to large commercial and residential real estate projects.
Hong Kong Safe Gold Group is a global company covering Hong Kong, Macau, mainland China and the rest of the Asia Pacific region.
Sunshine Beach Condominium is the first luxury project from T.H. Group in Thailand. The company brought together the best teams from China and Australia and, with an impressive capital base and relying on the benefits of global resource allocation, launched the Sunshine Beach Condominium project.
In developing Sunshine Beach Resort, the group adheres to Australian quality standards and also draws on the professional skills of its experienced staff, such as design, research and development, engineering management, material selection, and quality control.
To date, the company has already received all the building permits.
Also, the company has already signed an agreement with JLL (Jones Lang LaSalle) - a world leader in the provision of real estate services. JLL will provide the following services for the Sunshine Beach project: due diligence, property management, pre-project consulting.
about the project
Project size: 20,246 sq.m.
Project type: Resort complex with apartments and hotel rooms
Ownership type: Leasehold and Freehold (full ownership)
Completion of construction: 4th quarter 2023
Number of buildings and floors: 9 buildings, 4 and 5 floors
Number of apartments: 672
Type of apartments: Studio (from 29 sq.m.)., 1 bedroom (from 38 sq.m.)., 2 bedrooms (from 60 sq.m.).
Complex infrastructure:
Swimming pool 2.500 sq.m.
Luxurious restaurant "Aquarium"
SPA-center
Poolside bar
Rooftop bar
Spacious reception
Playroom for children
Shuttle bass
Equipped conference center
Beach services
Environmental friendliness of the complex
The project is divided into two parts: investment and residence:
The investment part of the project will be managed by a professional 5 * hotel operator and aimed at generating passive income.
The residential part of the project is intended for the owners' personal use and is ideal for those who want to live on the paradise island of Phuket.
Let's consider separately the investment part:
By purchasing an apartment in the investment part, you receive the following income guarantees:
7% of annual income, over 5 years. Income is calculated from the cost of the apartment.
Lack of utility bills and maintenance fees, for 5 years.
Buyback program in 5 years at 115% of the original price, that is, the developer will buy your apartment back, with a 15% increase in value.
The program rental pool 70/30 for 10 years.
* Complimentary accommodation - from 7 to 30 days a year.
Standard payment schedule:
Deposit - 100.000 THB.
1st payment: 35% - contract signing (within 14 days) after making the reservation.
2nd payment: 20% - upon Beginning of construction.
3rd payment: 15% - upon construction foundation completion.
4th payment: 15% - upon completion of the structure 100%.
5th payment: 15% - upon completion of construction and unit handover.
The cost of the apartments starts from:
If you have any questions, write to us using the link. We will also make a full calculation of the profit.
Got any questions left?
Feel free to ask!