Action FREE FLIGHT : we will cover your Airfare to Phuket !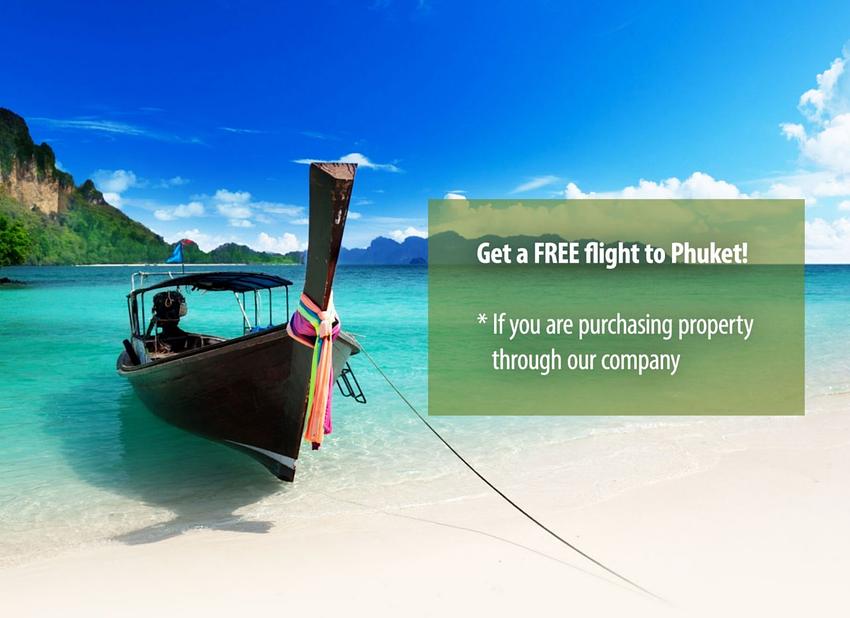 We offer to refund all or part of your airfare if you purchase real estate through our company.
You can get the money in cash or by bank transfer - it's up to you!
Cash Refund 
Buyer agrees to employ Phuket Project as sole agent, that the buyer will not use the service of any agent.
For the refund to remain valid a reservation deposit must be made during the visit.
The refund is payable only in Thailand and after Phuket Project confirmed receipt of commission payment from seller.
The Cash refund is based on property purchase price (see below).
The purchase price amount should be minimum of 2 million Thai baht or over.
Airfare Refund
Applicant must register with Phuket Project before any viewing of property takes place in person or by email to [email protected]
A flight ticket and/or invoice must be shown to Phuket Project within 30 days of the reservation deposit being made.
The name on the flight ticket must match the property buyer's name and/or his family.
The refund will equal the cost of the flight ticket only in accordance with the table above.
    Purchase Price

          (THB) 

 Refund Limit   

     (THB) 

  from 2,0 to 3,0 Mb

     10,000

  from 3,0 to 4,0 Mb

     14,000

  from 4,0 to 5,0 Mb

     18,000

  from 5,0 to 6,0 Mb

     20,000

  from 6,0 to 10,0 Mb

     30,000

  from 10,0 to 15,0 Mb 

     40,000

  from 15,0 to 20,0 Mb 

     50,000

  from 20,0 to 25,0 Mb 

     60,000

  from 25,0 to 30,0 Mb

     70,000

  from 30,0 to 35,0 Mb

     80,000

  over 35,0 Mb

    100,000
Offer expires on 31th December 2017.
Note: Any alterations to these conditions or any claims after purchase will not be accepted by Phuket Project as part of the refund offer. Breaches of these terms and conditions will void any claim.
Got any questions left?
Feel free to ask!