Kata Rocks - When Dreams Come True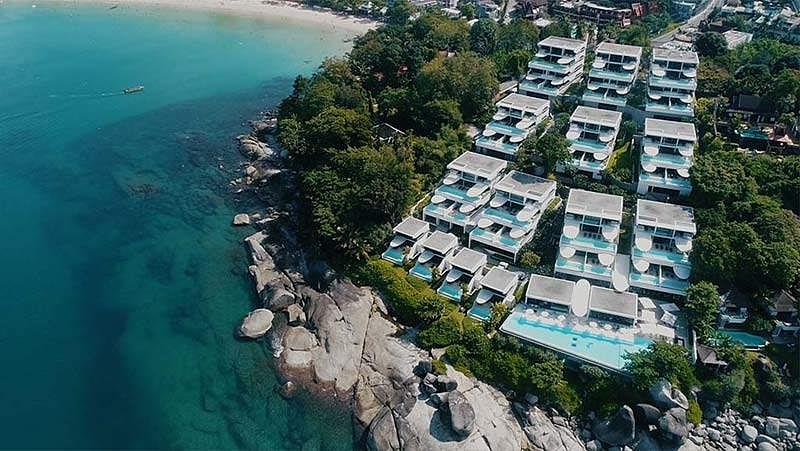 Phuket's best five-star Kata Rocks villas located on a hillside with panoramic sea views.
Kata Rocks is a luxury hotel complex, modern and elegant, with a unique concept. Here, you will not find the standard rooms that are usual for a hotel, only private residences, represented by villas from one to four bedrooms.
These villas can be purchased in full ownership, and become the owner of luxury real estate in Phuket with a steady income.
Kata Rocks brings you an amazing lifestyle on the shores of the Indian Ocean. Here, you will always feel comfortable, thanks to a team of professionals who will surround you with care and attention, and what is especially pleasant, they will do it in your native language.
This resort is located on the seashore, on a small promontory between the beaches of Kata and Kata Noi, being a hotel on the coast, Kata Rocks has its own pontoon, which allows boats to moor directly to the hotel. The area itself is a well-developed infrastructure, with a large selection of shops, restaurants, and entertainment. The number of beaches in this area alone is impressive.
The hotel consists of three main elements:
Villas "Sky"
SPA-center
Restaurant with infinity pool and panoramic sea views
Sky Villas
These are 34 luxury villas, presented in different categories, ranging from one-bedroom to four-bedroom penthouses. All penthouses have a huge area of ​​460 square meters and a 14-meter pool across the entire width of the terrace. 1, 2 and 3 bedrooms "SKY" villas have an infinity pool, 7 meters long.
One-Bedroom Sky Villas
One Bedroom Ocean Loft
Three-Bedroom Sky Villas
Concrete, stainless steel, and glass were predominantly used during the construction, thanks to these materials, the villas received a unique look and visual similarity to yachts. Each villa is built to strict quality standards, with a smart home feature that lets you control your residence right from your iPad, from opening curtains to ordering food.
Inside, everything is also thought out to the smallest detail, the main emphasis is placed on preserving and increasing personal space, panoramic windows around the entire perimeter of the house will allow you to continuously enjoy the sea breeze. Each villa is equipped with a living room, dining area, and functional kitchen. All furniture is made to order and only from natural materials.
Undoubtedly, the main advantage of these villas is a large terrace with sun loungers, a sofa, and an infinity pool, where you can admire the sunsets and the beauty of Phuket.
Today, Kata Rocks is one of the most successful projects in the world, on its account more than 20 international awards, including the prestigious title "Best Apartment in the World". And to become the owner of one of the villas is not only prestigious but also profitable. By purchasing one of the villas in the Kata Rocks hotel complex, you will receive the opportunity for permanent relaxation with the service of a five-star hotel and a stable income from investments.
As the owner of the villa, you can use all the privileges of the hotel complex: transfer from the airport, concierge service during your stay, chef services, and much more.
You can get more detailed information about layouts and prices by leaving a request on the link.
SPA-center
Infinite Luxury Spa is located on the territory of the hotel, recognized as the best spa center in Phuket. Each procedure is unique, selected taking into account individual wishes, and will give you heavenly pleasure. Only natural ingredients, high professionalism, and personal approach.
Restaurant
It is also one of the best on the island, due to its location, you will enjoy not only the cuisine but also 360-degree views of the Andaman Sea.
The menu offers a variety of dishes, from the Mediterranean to Thai traditional cuisine. Each meal will be accompanied by wine from the hotel's personal cellar. On request, you can organize a private dinner on the beach or a picnic on the rocks.
Kata Rocks is a combination of luxury and sophisticated lifestyle, with great architecture, location, and service. Here you can buy your own paradise.
If you want to get a special offer, please contact us at the link.
Got any questions left?
Feel free to ask!