Apartment - Freehold with sea views on the beaches of Kata / Karon! The best deals of 2021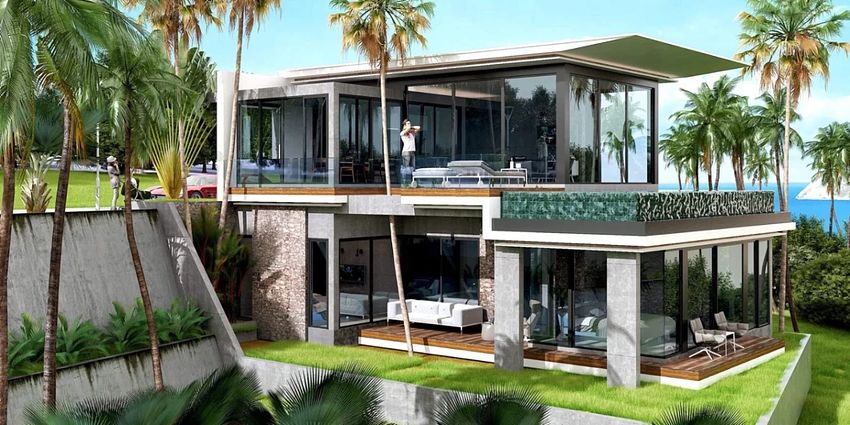 Last update of the list of apartments with sea views in Kata and Karon beach. The latest trend shows a great demand for this type of property, so we decided to choose for you the most successful offers with 1 and 2 bedrooms in freehold and most importantly with a sea view!
Karon, Kata, and Kata Noi beaches are popular among vacationers, which attracts investors.
From one beach to another, the distance is short, which can be walked. Basically, they provide one beach line and evenly built-up tourist areas.
There is a well-developed infrastructure with an abundance of shops, restaurants of various levels, massage parlors; a clean sea, and beaches. Most vacationers live in hotels or apartments. There are very few villas, although there are excellent offers both with sea views and within walking distance to the beach. If you want to get information on the villas in this, leave your request on the link.
We are interested in apartments in this article. The advantage of real estate in these areas lies primarily in the fact that most of the projects have a beautiful sea view and, most importantly, high-quality construction.
The Condominium is located on a hill, due to which it has a wonderful view of the sea. This project has already managed to establish itself as a profitable investment offer with a stable rental income even during a pandemic.
The complex offers apartments from studios to 2-bedroom apartments. There is also a great duplex apartment option that will give you a luxury 3 bedroom duplex penthouse. Details on request.
All apartments have a similar layout, but, of course, there is a difference in area and location, floor, it is also very important whether it is a corner or not.
Now, this project offers some apartments of the most successful at a price, such as a 2 bedroom apartment in a freehold.
The complex has a communal gym, swimming pool, restaurant, and yoga detox center.
The next project also deserves special attention. It is located in a gentle area, closer to Karon Beach.
Apartments differ in their scale here from everything that we are used to seeing in Thailand. These are huge areas, high ceilings, spacious balconies, and, most importantly, high-quality materials.
The general infrastructure is its own gym, swimming pool, and restaurant. Karon Beach can be reached on foot (15-20 minutes).
The complex is located on a hill, closer to Karon Beach, it offers apartments with panoramic sea views and a large indoor area.
And next to Sunset Plaza, there is another condominium to look out for. It is the Karon Butterfly project.
The projects presented above have already been built, are successfully operating, and have proven their investment profitability.
The next two projects that we want to mention are new complexes that are just being built but already deserve special attention.
New condominium just 600 meters from Karon Beach. The complex consists of 2 buildings and offers two layouts: studios and 2-bedroom apartments.
Start of construction: July 2020
Completion of construction: December 2021
The undoubted advantage of any new project is the interest-free payment by installments, which makes the purchase of a real estate in Phuket more affordable.
This project can be classified as elite real estate. In addition to luxury apartments, several villas with panoramic sea views will be built here.
The complex will be managed by a well-known hotel chain, which will only increase the profitability of the property.
The developer offers a guaranteed rental program for 10 years:
7% for 3 years + 7 years rental pool program.
Accommodation for the owner - 30 days a year.
For detailed information, just follow the link.
Got any questions left?
Feel free to ask!