Phuket Property by Location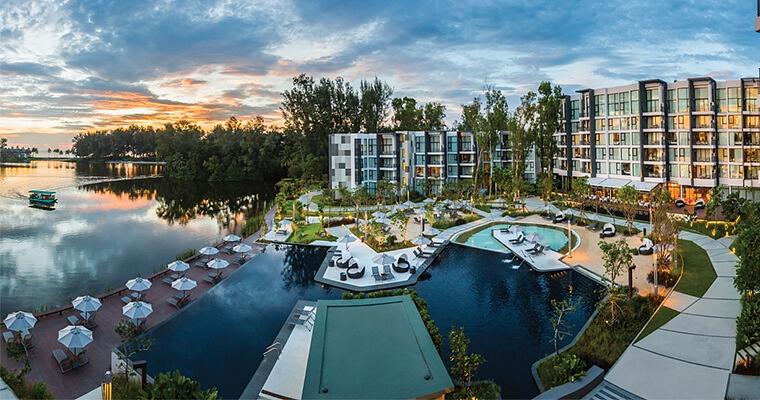 With so many good locations in Phuket, how does one know what to scout for in each location? In this article, we describe each location and what kind of property market is provided.
In the center of the island, we find the following areas, Kathu, Phuket Town, Cherng Talay, Thalang, and Koh Siray.

Kathu – The location of Kathu falls between Phuket Town and Patong Beach. Kathu is in the center of
Phuket. This market consists of mostly residential villas and condominiums. The attraction with
purchasing in Kathu is the much lower prices per square meter than compared to other suburbs of
Phuket. Land in general is much cheaper. For anybody that happens to be a Golf lover, the area also has
some luxury Golf Courses. If you are a nature lover then you also have access to beautiful waterfalls and
parks.
Phuket Town - Here you find the business hub filled with many attractions such as historical buildings,
museums, restaurants, immigration and other government offices, markets, hospitals and a range of
shopping centers. Properties include larger condominium complexes and residential houses. Prices can
tend to vary. A great location as you have access to the main piers where a short boat ride will take you
to close neighboring islands. There are many festivals taking place throughout the year, some major
ones include the annual Vegetarian Festival.
Koh Sirey - A stunning location where folks can see Phang Nga Bay. This area has some very luxurious high
end villas as well as high end condominiums offered at very reasonable prices, most of which are in
beachfront locations.
Chergn Talay – This area is filled with expats as it offers a range of western amenities, a diverse range of
restaurants, interesting markets, and small businesses that cater for tourists and expats. Here you will
find many condominiums and villas. The market in this case is very mixed and there is as much demand
for villas as there are condos. Prices per square meter can vary but land up here does steadily start to
increase. A great area for anybody needing a bit of Western style living.
Thalang. Interestingly enough Thalang used to be the Capital of Phuket before it changed to Phuket
Town. This area has some very old temples, in fact, some of the oldest on the island. Here you are only
20 minutes from the airport and you also have access to large outlets such as Makro, Home Pro and
Tesco's Thalang. Properties here tend to be purely for residential purposes only and purchased by Thai
Nationals.
East Coast of Phuket
Cape Panwa- This area is home to the very exclusive resort, Sri Panwa. The area is beautiful and offers a
very relaxed atmosphere. Cape Panwa has not yet become too developed so its quiet atmosphere is the
attraction. Fortunately, it is close to Phuket Town so shops and amenities are nearby. Folks tend to
purchase luxury villas here or mid-range market condominiums.
Cape Yamu – This used to be just a fishing villages. Over the years the area has become gradually
developed and now offers some of the most expensive and exclusive real estate on the island. Here you
find large luxury villas and high end condominiums.
South
Chalong  - A busy area and situated around a bay, known as Chalong Bay. The area has become
considerably developed over the last decade with the inclusion of shopping centers, schools, resorts,
bars, restaurants, banks and other necessary amenities ones needs. Due to the convenience of things in
Chalong, many expats base themselves here and some even open local businesses. Here one will find a
diverse range of real estate. Anything from small studio sized condominiums, villas, to large gated
residential housing communities.
Rawai - On the Southern tip of Phuket, you will find Rawai. Rawai has a pier much like you will find in
Chalong and here long tail and speedboats are available to do short trips to neighboring islands. Beaches
are not really swimming beaches. Many resorts are around and the area is popular for seafood
restaurants, nightlife and entertainment. Many expats and tourists stay around Rawai as it is close to
Chalong where necessary amenities such as shopping centers are available. Here you will also find a
diverse range of villas and condominiums.
Nai Harn – A lovely area of Phuket. The attraction is Nai Harn beach, with its beautiful surrounding
scenery. Tourist flock here all year round to enjoy the delights of this area and its wonderful beach. Onc
could almost call it a seaside town. You have fabulous restaurants, health & wellness centers, small
shops and basic amenities that folks need to get by on and only a short 10 minutes drive to Chalong. Sea
view luxury villas tend to be situated high up on the surrounding hills. Lately, there has been an increase
in condominium complexes around, ranging from studio condo-hotel type properties to larger 2
bedroom units for longer stays.
West
Kata – Kata beach is said to be the most popular beach for tourists situates on the South West Coast.
Beachfront locations are occupied by resorts. Kata consists of Kata and Kata Noi, which is around 5
minutes' drive from Kata Beach. Some prefer Kata Noi as it's not too busy, where Kata Beach can tend to
get crowded especially during the high season. The main Kata area offers a range of restaurants as well
as bars. This area is mostly a tourist area with a few expats. Villas are located on Kata Hill, overlooking
the gorgeous bay. Alongside these villas, you will also find condominiums mid-range to the higher end. Some
condominiums offer sea views while others are on the lower end behind the hotels on the beachfront.
Karon – For anybody wanting to be close to the main tourist hub, but not too close, then Karon is the ideal
location. In Just 5 minutes you will reach Patong or vice versa. A long stretch of beach is present and
here we have the Phuket Hilton Hotel, currently the largest on the island. Land in Karon is pricey,
however, despite this being so, the area is developed. Condominiums are what you can find out here.
Patong – Without a doubt, this is the busiest area of the island. Most first timers to Phuket will book
themselves into a hotel or guesthouse to be amongst the action. Patong is heavy with nightlife and
absolutely buzzing with people. Over the years this area has become very developed and cosmopolitan,
with plenty of activities and shopping to keep one occupied, not to mention the bars, restaurants and night
clubs. Real estate here has become rather pricey over the years as land prices have soared. Villas,
residential properties and condos are what can be found.
Kamala  - Just ten minutes' drive from Patong you reach the Kamala area. Kamala is famous for its beach
and relaxed atmosphere. Home to some of the most exclusive and expensive real- estate on the island,
which you can find in the luxury part of Kamala know as millionaire's mile road. The beach has a diverse
range in restaurants and some high end beach clubs. Along the beachfront, there are hotels and luxury
condos, up in the hills a mixture of villas and condo's. Kamala is the new up and coming area. Land out
here has become increasingly expensive over the last three years.
Surin - is just a five minutes drive up from Kamala and also offers a lovely beach. This area has always
been considered the higher end of living in Phuket. Predominantly was luxury villa territory but now
there are many mid-range – to high end condos.
Bang Tao Beach  - This is Phuket's second longest beach, with plenty to do and lots of beach bars, this
truly is a great beach to enjoy with the whole family. This area offers one of the largest developments in
Phuket known as Laguna. Laguna has its own hotels, golf course, parks, villas, town houses,
condominiums elephant camp and beach club. Bang Tao real estate is very high end with the exception
of a few condominium developments near the famous " Boat Avenue " shopping center that are more
for long-term residential expats , thus the rental and purchase prices are cheaper.
Layan Beach – The area of Layan is quite spread out and filled with greenery and hills. Most villas are
built on Layan hill and offer incredible sea views. Very high-end luxury real estate can be found in this
area.
Nai Yang Beach – This area is small in location compared to other areas of the island, however, it's only
five minutes' drive from Phuket international airport. The used to be purely an area that offered hotel
accommodation, however recently there has been a few condominium developments appearing very
near the beach. Here one can find an apartment at entry level market prices. Nai Yang is a national park
so you won't find any developments on the beachfront due to heavy restrictions in this area.
Mai Khao – If you were to keep heading north, almost as if you were driving out of Phuket, you will hit
the area of Mai Khao. This used to be a very isolated area with only resorts such as Marriot, Anantara
and Renaissance Hotel. However, due to the land prices becoming so expensive , developers are now
looking to other areas such as Mai Khao, where prices are still affordable. The beaches up this way are
nice and quiet. Here you can pick up a condominium for not much if comparing with the rest of Phuket.
Got any questions left?
Feel free to ask!