Expat Interview with People Living In Phuket, Thailand. Part 2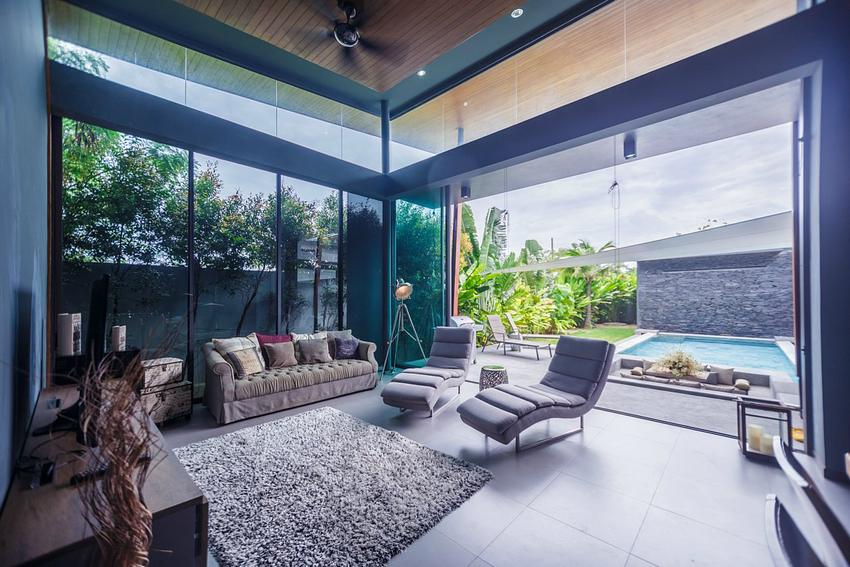 Anna from The UK, 8 years in Phuket
- Anna, what kind of property did you buy?
- I have bought a one-storey villa in the southern part of Phuket. It was under construction that time. Now it is fully commissioned, I have moved in and as for now I live there. The villa itself is in my full possession, the land is leased for 90 years. These are the local laws: a foreigner may not own the land plot. Full cost was $ 430 000, including full furniture package, as they say, "key ready property". I had to buy some things, of course – audio system, a washing machine and a dryer. My life-long dream came true – I have a private pool and a tropical garden in the yard. There are also fifteen other families living in my area, but our high fence and plenty of greenery helps us feel quite comfortable. It's not noisy even in New Year and Christmas period.
- And who are your neighbors? Thais or expats?
- There are no locals in my area. The community was originally built for foreigners. About a half of my neighbors are my compatriots, but of course there are also people from other countries – Australia, Korea, England and Singapore. Russians, despite a popular opinion, behave even better than other nationalities – they don't get drunk and, in general, they are quiet. So, such behavior has a good influence on the attitude of locals – they like foreigners. Thais celebrate their New Year which is in April even noisier.
- Do you permanently live here?
- Since the purchase in 2009, my villa is never empty. My parents live here for about 4 months, my friends come here too and, of course, I come at least once per year. It's very important for me – rest, relaxation, change of scenery. I spend a lot of time on the beach – sun, water and sand give me so much energy.
- How did you come up with the idea of buying a property in Thailand?
- I travelled quite a lot to foreign resorts, stayed in different hotels. At some moment I thought – why do I have to pay so much money for a "comfortable hall of residence" which basically can describe almost any hotel? I was looking for seclusion and privacy. Besides, the idea to manage the interior for my own needs was also very attractive.
- Why did you decide in favour of Phuket?
-  In my opinion, Phuket is the best place on the planet for a good rest. Easy entry, no visa problems, no need to plan anything – you just buy a ticket and fly there, just as simple as going to the country. The climate is just gorgeous, warm, sunny, wonderful sea. Locals look with favor at farangs – as they call all foreign people. Thais are very friendly and it is also important for me. I have chosen this particular area because of pragmatic purposes also. The Andaman Sea is much cleaner than the Gulf of Thailand. There are no such large seaports as in much-touted Pattaya. It is not as noisy as in the popular resorts of the mainland, but if you are really looking for fun and parties, you can go to Patong. It is also good that in addition to public sandy beaches there are remote and quiet ones, like Ao Sein or a non-touristy Freedom Beach. Nearby there is a parking for numerous yachts, viewpoint at Promthep Cape which is the best place on Earth for enjoying the sunset.
- What can you say about general infrastructure and entertainment facilities of Phuket?
- It is quite a modern resort. Everyone will find here something to his liking. It is comfortable for fans to "hang out", and "beachgoers", and sports fans. There are a lot of shops, restaurants, cafes for any taste and budget. A large part of entertainment facilities is located at Bangla Road – this is the main street for nightlife fans. Phuket is also provided with great opportunities for doing sports, especially those kinds which are connected to water, sand or extreme. There are several great golf courses, especially near Lagoon.
Outside the island there are also many places to visit – national parks, temples, hot springs. The surrounding islands are very attracting to divers – Phi Phi, Similans and Raya are in Top Ten of attractive diving spots in the world.
- Is Phuket convenient in practical sense?
- Everyone is sure to find here almost everything which he is used to while living in a large city in a developed country. Great opportunities for shopping – you can buy almost everything you need. Of course, you can fly to Bangkok for excellent shopping or Malaysia for 3000 THB back-to-back. Mobile communication is of excellent quality, Wi-Fi Internet is available almost everywhere. There can be some language difficulties, as the Thai language is hard to be learned for us. Locals don't know Italian or French, but if you are a native English speaker, you will not get any issues to communicate. English helps a lot. Thais understand the most of it, I mean, simple grammar and vocabulary expressions. There are, of course, some, let's say, dangerous moments, like coconuts, for example. When ripe, they are falling from the trees, trying to hit on your head. So, I have to hire someone who picks them up.
- Is it hard for you to handle maintenance issues of your property?
- These issues should be left to the management company. Development is being done all around, by small villages; each of them has such company. If something is wrong – there is no light, water, problems with the Internet or phone – specialists will come and handle all problems. Usually, there's no need to call them – everything works fine.
Maintenance of my villa costs me about 20 000 THB. This sum of money is split between fees for house and garden – cleaning, maintenance – and utility payments, mostly electricity. Anyway, it's still much cheaper than keeping something like that in The UK. With all the expenses it costs about $1000 a month. Besides, there is one nice feature of a local tax law – no real property taxes at all.
- It seems like it costs the same as renting a property, is it?
- It costs about ten times cheaper than renting something of a similar comfort and convenience. I have studied this matter very carefully. Rental of a property is a great option for a temporary stay, but for a long term, I believe, purchase of a property is more interesting.
- Did it take you long to choose the right property?
- I combined search of property with rest, all process took about a week. My method was quite simple – first, select the district, then the type of property, then choose the developer, taking into account reviews and recommendations from other property owners. I was offered about ten options. After visiting two or three houses per day, I found the house of my dream. I just stepped in and realized – this is my home.
Of course, I could choose something cheaper, but this villa met all my needs concerning interior, design, location and neighbors. Besides, I would not be satisfied with having to spend half a day for getting to the beach. It's not cheap at all.
I would also like to pay special attention to the quality of works – construction, finishing, ventilation, utility lines – everything is done properly. I guess, local developers know what a good quality is, or maybe I was just lucky.
- Was there anything that is worth noting when buying a property?
- Well, I don't even know – everything is organized so wonderfully, so I have nothing else to say. Realtors selected appropriate objects, after that I worked with representatives of the developer. All the paperwork costs a penny – 0.03% of the transaction price. I made payments after every stage of the construction. This system is convenient both for the developer and for the buyer.
The village is built in the following way: a land plot is separated, fenced, then they built a so-called "show room" house, and after that – all the remaining objects. You don't have to go there several times and check if the construction is going fine – you will get the report with photos anyway. But when it comes to accepting the house, you must handle it yourself. Until you put your signature under the Act of acceptance, you can fix everything you don't like. At this moment you will see the famous Thai patience – they will make all changes and fixes with a smile, until the final result will satisfy the client. I did not like the way they organized a lawn, so they replanted and cut it again.
- Do you have any future plans related to the villa?
- I guess, I will use it the same way as before, and we'll see later on. If I find something that will attract me, I'll think about one more purchase. I can be attracted by the proximity to the sea, because now I have to get there by car – just a few minutes, of course, but still by car. If I see some attractive beach front property, I admit, I can buy it.
Got any questions left?
Feel free to ask!